Posted on February 6th, 2009 by
Jason Rosenbaum
in
Take Action!
| | | |
| --- | --- | --- |
| | | |
Democrat Ben Nelson and Republican Susan Collins are working on an estimated $80 billion in cuts from the President's Economic Recovery package. Unfortunately, those cuts directly eliminate jobs from the package, and hit the crucial health provisions. Here's a rundown of what's on the chopping block, via Greg Sargent:
*****************************

Total Reductions: $80 billion

Eliminations:

Head Start, Education for the Disadvantaged, School improvement, Child Nutrition, Firefighters, Transportation Security Administration, Coast Guard, Prisons, COPS Hiring, Violence Against Women, NASA, NSF, Western Area Power Administration, CDC, Food Stamps

*****************************

Reductions:

Public Transit $3.4 billion, School Construction $60 billion

*****************************

Increases:

Defense operations and procurement, STAG Grants, Brownfields, Additional transportation funding

*****************************
You got that right. We're eliminating money for programs like Food Stamps, Head Start, and Child Nutrition and giving more money to the military.
The argument that giving money to "government programs" isn't economic stimulus is patently false. Think about it - how do you think this money gets spent once it gets to these programs? With the influx of cash, these programs will go out and hire workers to complete their mandates. That means programs like Head Start, the TSA, and NASA will be hiring, and school districts will be looking for more construction workers to build schools.
Here's what Moody's and the Center for Economic and Policy Research say about what kinds of spending creates the most jobs: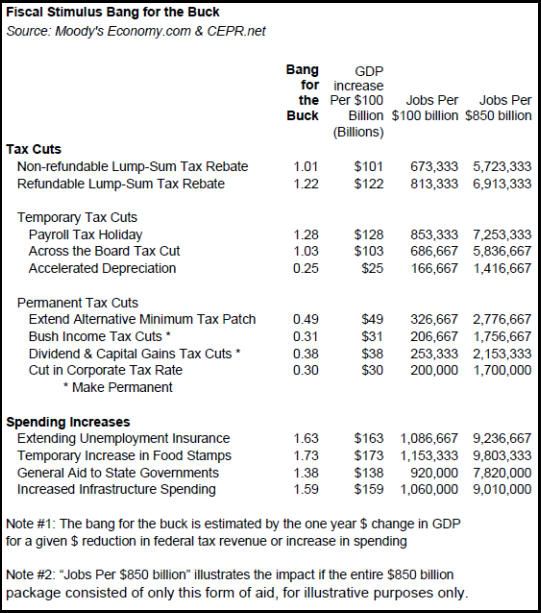 Spending on Food Stamps, infrastructure, and aid to state governments (read: public transit, school construction, Head Start, Child Nutrition, transportation improvement - all of which are on the chopping block) is the best way to create jobs. And we get the most out of it in terms of jobs and GDP.
This is exactly what the government should be doing - spending money to create jobs by expanding existing programs. That's how you're going to get the money flowing most quickly, by beefing up what's already working.
Anyone who says "these programs aren't economic stimulus," as conservatives are all parroting, is, to put it lightly, full of crap.
The proposed cuts by Nelson and Collins aren't cuts to "waste," or cuts to "non-essentials," they are cuts that fundamentally weaken the economic recovery package and would be directly responsible for eliminating hundreds of thousands if not millions of jobs. These are not cuts that Health Care for America Now can support.
Please take a moment and call or write your Senators and tell them to vote "no" on the Nelson/Collins amendment. On a day where the U.S. unemployment rate jumped to 7.6% and the rate that jobs are disappearing is accelerating, we can't stand for cuts to our economic future that would create less jobs.